Sand Tolerance 300 g/m³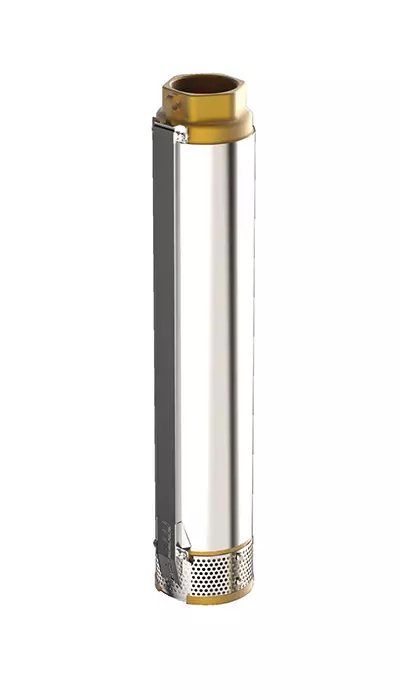 Submersible pumps 4 inches series 95 PR
Pumps suitable for clean water supply (max. water temp. 35°C) for domestic and industrial applications such as pressure boosters, firefighting systems and irrigation. The submersible pumps series 95 PR N /95 PRX N 95 PRG N are the smallest in the wide range of submersible pumps manufactured by Panelli and sumarize all the years of experience in hydraulics. The patented know-how of the floating impeller with front shim adjustement enhances the water flow into the pump with important hydraulic and functional advantages.
Series 95 PR
Suction cage and delivery bowl in brass
Noryl Diffuser - Polycarbonate Impeller.
Internal element and pump sleeve in stainless Steel AISI 304.
---
ADVANTAGES
High Efficiency and high wear resistance to sand.
Longer pump life thanks to the high quality of materials and to the specific floating impeller design. Very low maintenance need. Components F.D.A approved.

MATERIALS
The materials of standard execution are: Impeller in technopolymer (Lexan) Diffuser in technopolymer (Noryl GFN2) Intermediate casing in Stainless Steel AISI 304 External sleeve in Stainless Steel AISI 304. Delivery bowl and suction cage in brass or stainless steel. Non return valve in Stainless Steel AISI 304 included. Besides standard construction the pumps can be manufacture with the Delivery Bowl and suction cage in casted stainless steel AISI 304 (SERIES 95 PRX), suction cage and delivery bowl in cast iron with CED (cathodo electro deposition) (SERIE 95 PRG).

HYDRAULIC PERFORMANCES
Capacity up to 24 m³/h with the unique High Capacity Series (95 PR 18, 95 PRX 18, 95 PRG 18 , 95 REC 18, 95 SX18). Head up to 470 m Power range up to 7,5 kW-10HP.Maximum sand content 300 g/m³ of water (High Capacity Series max 50 g/m³ of water, 95 REC - 95 SX - 95 PR 18, 95 PRX 18, 95 PRG 18).
Want to know more?
Request more information on prices and availability
CONTACT US